Westphalia Forecast:
Forecasting as a Service
No more lost sales and out-of-stock or overstock situations due to imprecise forecasts!
Westphalia Forecast leverages artificial intelligence to automate and optimize your current forecasts.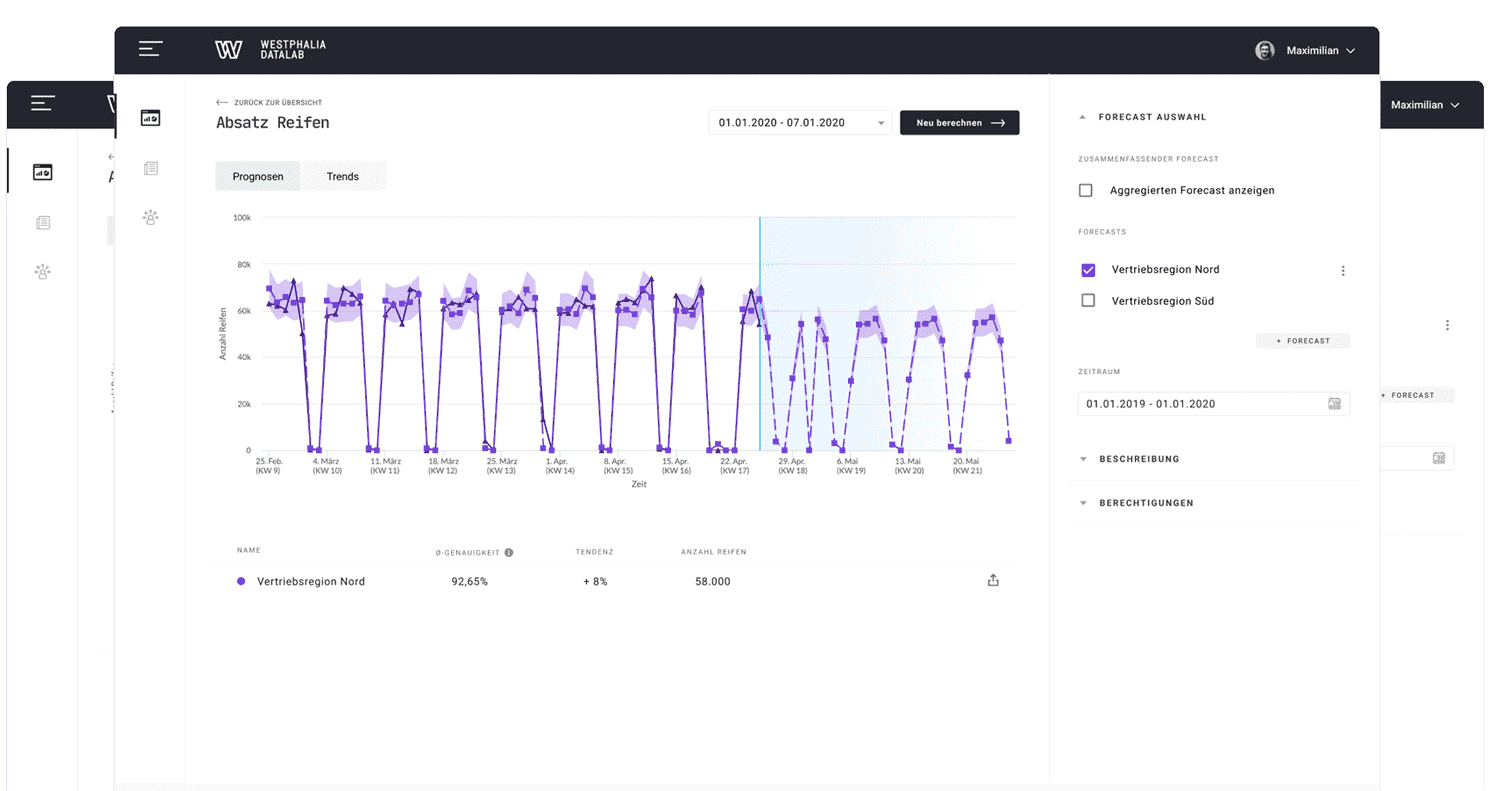 Automate planning processes, increase efficiency, reduce costs
Turn your data into a reliable planning tool. Westphalia Forecast generates forecasts at the push of a button based on your historical company data and the inclusion of other internal and external factors. And this for every location, every sales channel, every article, every day.
Look into the future
Better forecasts in less time and with less effort
Westphalia Forecast uses various machine learning algorithms to create the best possible forecasts, so-called time series forecasts. Future demand, incoming and outgoing goods, or required personnel levels are just a few examples of all the things you can predict and plan with Westphalia Forecast.
Create the basis for your planning process
For whom is Westphalia Forecast?
Westphalia Forecast is aimed at all those who depend on accurate forecast in order to make decisions. Regardless of whether you are a buyer, logistics manger, production or plant manager, a store or branch manager, Westphalia Forecast generates the best possible forecasts and as such creates a reliable basis for all planning processes along the supply chain.
Frequently Asked Questions
Westphalia Forecast at a glance
Can I use Westphalia Forecast without data science knowledge?
Absolutely! You do not need any data science skills to use Westphalia Forecast. Our software is intuitive to use and provides you with additional guidance.
Can I replace my forecasts previously done in Excel?
Yes, that is exactly the goal. Westphalia Forecast is a fully automated solution that generates forecasts based on your data. Put an end to excel chaos!
Can I integrate my predictions into our systems?
Yes, definitely. Westphalia Forecast is a true integration artist. We are happy to advise you on the integration into your target systems.
Can I use Westphalia Forecast to plan my resource requirements such as staff?
Yes, that is what Westphalia Forecast is for. Westphalia Forecast analyzes your data and predicts your required personnel levels. Almost everything is possible in your custom dashboard.
What does Westphalia Forecast do with my data?
Westphalia Forecast filters your data, corrects errors within the data, analyzes the outliers, creates influencing variables and combines various internal and external data sources to create the best possible forecasts.
Are external data considered?
Yes, indeed. For instance, the day of week, the week, seasonality and if required even the weather are included to generate forecasts. If necessary, further data sources can be used.
Can I create forecasts on a daily, weekly or monthly basis?
Yes, Westphalia Forecast allows you to generate predictions on a monthly, weekly and even daily basis.
Let's talk about your individual forecast
Make an appointment now
You are looking for more information about Westphalia Forecast or would like to schedule a demo? Leave us your contact details and we will get back to you within 48 hours.