Hello future!
Improving the world of tomorrow – with data products.
We will lead your company into a successful future with data science, AI and software solutions.
How? You will see.
More than 140 data science projects LEVERAGE DATA SCIENCE AND AI TO INCREASE SALES, REDUCE COSTS AND CREATE ADDED VALUE
Regardless of your company size and industry, we support you in the planning and implementation of customized solutions around data science, machine learning (ML), and artificial intelligence (AI) – from the initial idea to the seamless integration of the solution into your IT infrastructure and operational business processes.
Data Science Projects & Data Products
How we can help you with data science & AI
We turn your data into practical, individual data science software solutions that deliver concrete results in terms of increased sales or cost savings.

Consulting
We are your partner for all things related to data science.

Development
Together we develop state-of-the-art data science solutions.

Products
We develop scalable data products based on your needs.
Data science projects from idea to integration
No matter if it is a first idea or a ready project plan, our team conceptualizes and implements your data science project and supports you comprehensively in all project phases. From the initial idea to its final deployment.
You do not need any internal data science skills to start a project. Together we will assess the feasibility of your use case, analyze your business and processes, and advise you on the choice of the right technology.
You have an idea?
You finally want to get everything out of your data, but are unsure how to successfully implement a data science project? We are here to accompany you along the entire journey.
You have a specific use case in mind?
You already have a use case and goal in mind and need a partner with whom you can discuss its feasibility? Given our project experience, we evaluate your use case in terms of its potential and feasibility.
You need support in implementing your project?
You already have an initial project plan and want to get started by implementing it as soon as possible? We support you by implementing your project idea and are always there to advise you.
GERMAN AI AWARD 2020 + MACHINE LEARNING CHAMPION 2019
Awarded several times!
Despite our young history, we have already been officially awarded: As part of an international study, the Center Smart Services of RWTH Aachen University examined more than 300 providers of Machine Learning services in the industrial environment. We were the only startup to be named the "Machine Learning Champion 2019".
Our greatest success was celebrated in 2020: We had the honor to receive the German AI Award (Deutscher KI-Ehrenpreis) from WELT for our outstanding achievements in the practical application of AI.
Our AI-based Forecasting Product
Westphalia Forecast: Forecasting as a Service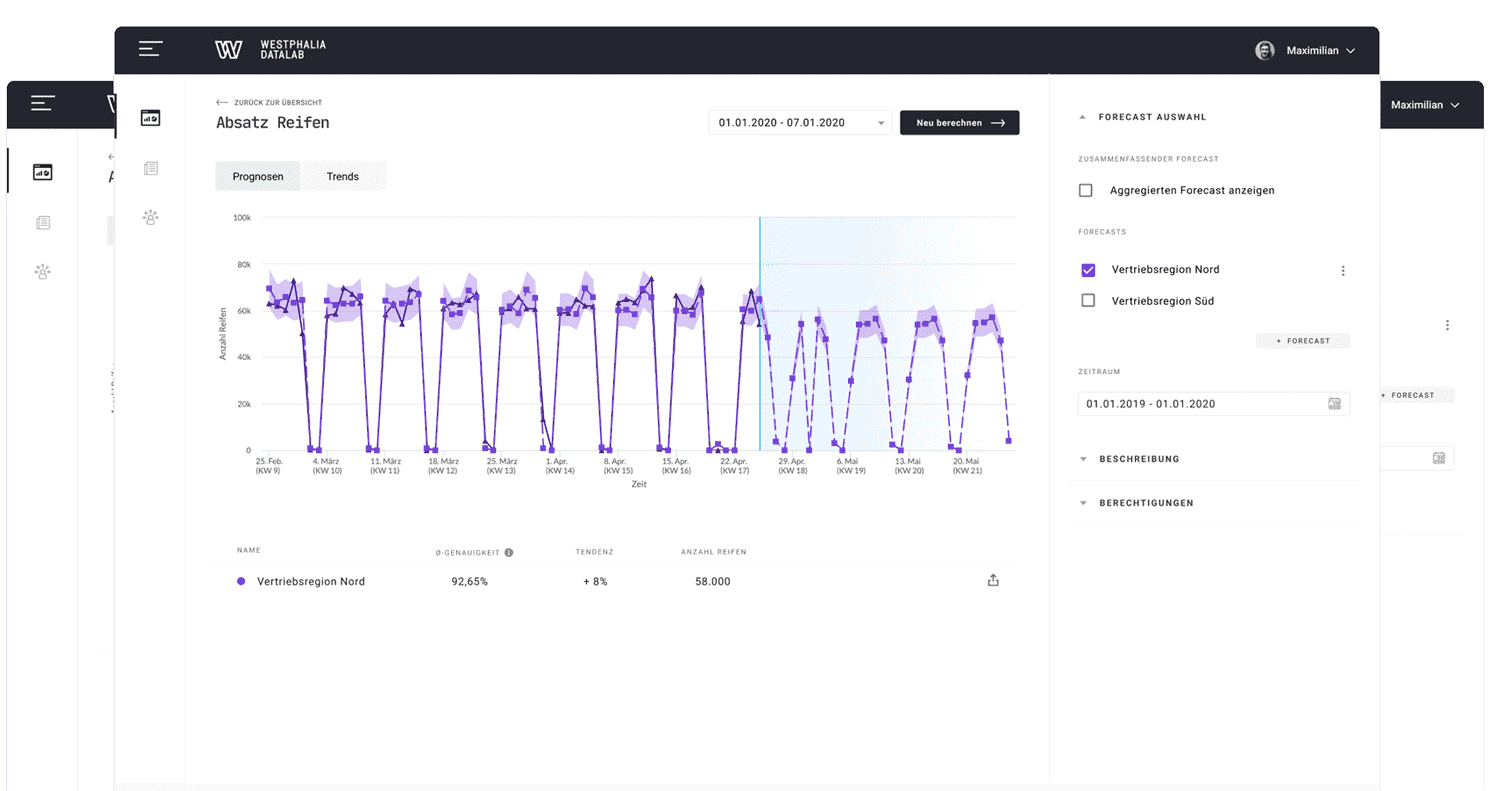 PUT AN END TO EXCEL CHAOS AND PREDICTIONS BASED ON GUT INSTINCT
Westphalia Forecast automates and optimizes your current business forecasts by using artificial intelligence.
Based on your existing company data and the inclusion of other internal and external factors, Westphalia Forecast creates forecasts at the push of a button.
Get predictions for sales and demand, required personnel levels, and other relevant business key figures – for every location, every distribution channel, every article (down to SKU level), every day.
Westphalia Forecast provides you with a reliable decision-making basis for all planning activities along the supply chain.
Our Blog
Westphalia Stories: News from Westphalia DataLab
About Westphalia Stories
We at Westphalia DataLab unite deep expertise in data science and software know-how in one company. Pick our brains by diving into the articles, posts, and other interesting contributions our experts have authored. Gain insight into our work, use cases, success stories and stay up to date with our latest company news.

The Westphalia DataLab
Located in beautiful Muenster, the Westphalia DataLab is the core, starting point, and driving force behind our mission to make the benefits of artificial intelligence accessible to everyone.
Here, our highly motivated, interdisciplinary team of around 50 employees not only works on customized end-to-end software solutions for your company but also on transforming our project experience into standardized off-the-shelf software.
Ready for your data revolution?
Benefit from our data science expertise for your data-driven success.
Individual enquiry
You already have an idea or even a specific use case in mind? You just want to talk to someone about data science? You are looking for a trusted partner for your project?
That is exactly what we are here for!
Leave us your contact details and we will get back to you within 48 hours. Promised!